Investing in Future Technology
" We are always on the lookout for how we can improve on our processes." Craig Wilhoyte – Owner
July 2016
C&D purchased a new AMADA ENSIS 3015 Fiber Laser to add to our arsenal of cutting equipment. The flexibilities offered by the fiber laser is a perfect fit for our precision sheet metal fabrication shop.
Along with our existing lasers and punch machines, we now have multiple options for our cutting needs to ensure our customers get what they want when they want it!
ENSIS 3015 AJ Fiber Laser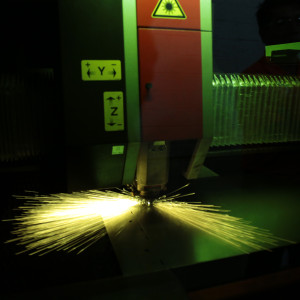 The ENSIS 3015 AJ is a 2kW fiber laser cutting system that provides 4kW cutting capabilities. The ENSIS utilizes a highly innovative resonator to automatically and precisely adjust the diameter of the laser beam. This unique feature enables continuous cutting of thin-to-thick sheet metal materials by a single machine and no lens change or additional setup is required.
The bottom line for C&D and our customers is we can produce dramatically faster cuts during sheet metal product fabrication, increasing our output and decreasing production time and cost.
Standard Features
ENSIS technology allows for continuous variable beam control across
every thickness of material with no setup
1.4g acceleration over the entire work area
Cutting speeds over 4,700 ipm
Automation-ready
Energy efficient